STYLING SOCKS WITH SANDALS: THE DM'S WAY

Forget what people say. With signature DM's individuality,
socks
and
sandals
is always a 'yes'. Make a statement by heading out in the perfect getting-ready-for-summer outfit, or stay in and add some extra comfort to your loungewear. Here's how some of our DM's store staff from across Europe are styling theirs.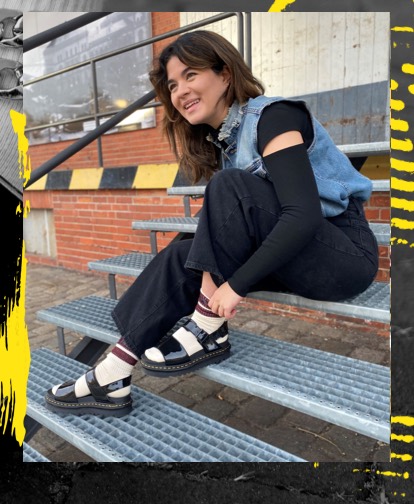 Claudia, Berlin Europa Centre store
One of the things I love most about these sandals is their comfort and versatility. For me, comfort is a must. I have to be on my feet all day, every day, and these sandals are easy to wear and still look cool. I put together this outfit to make the patent leather sandals pop, while the bright socks add a little more warmth to the look. I would wear this on an autumn or summer day, but it's easily adjustable with or without socks even for the winter months or those hotter days.
"When you've got a pair of DM's on, you could throw any piece of clothing and you'll still look tough and ready to roll."
NARO SAE-SIA
COLOGNE STORE
It doesn't matter where my clothes are from; men's section, women's section or second hand, I always just dress how I feel. Since some people seem to think socks and sandals aren't 'trendy', I wanted to make it more fashionable by mixing it with some streetwear like the bandana and matching it with DM's socks to make it more contemporary. It's super comfortable and I can even wear it in spring and autumn, when it's a little bit fresher outside.
MARIKE SKLARSKI, MITTE, BERLIN STORE
"DMs are my go-to shoes, no matter where I go. They stand up to anything with me and they always make me feel confident and ready for anything."
I styled the
Clarissa
with striped socks, so you can wear them in the height of summer and make a statement at the same time. In general, you can wear this sandal with everything because it is black and therefore super easy to combine. Because of my interest in punk music and 70s and 80s subculture, I also take this as inspiration for my own style. Add a pair of Docs and everything fits!
What I wear depends on my mood and the music I listened to that morning. For this, rolled up trousers and beige socks make the sandals pop. As a fan of fancy and easily visible socks, it's one of my go-to outfits. I stay tough during these times of struggle by taking a lot of photographs, a passion I have since I was 16. I also cook regularly for my loved ones, and try to stay healthy and keep on rocking.