Hi, and thank you so much for speaking with us. Could you give us an introduction? 
I go by Rahm and I am an image maker based in Brooklyn, NY. Pursuing my dreams in the Fine Arts and Fashion brought me to the city in 2013. Since then I've graduated from Parsons, and have also extended my lens across many mediums. Painting, illustration and design, photography, curating, modeling and performance arts. My work and my ideas are inspired by a constellation of influences ranging from my own personal identity & culture, and my relationship with the natural world and dreams.
How would you describe your artistic style?
My artistic style is a form of therapy and world building. Both in the sense that it is a release of unconventional ideals that make a space for folks who seek a departure from worlds that don't always favor such a high concentrated amalgamation of interests. It is mostly centered around portraiture and highlighting the multi faceted black beauty. I'm constantly and consciously depicting "bold" features and a wide range of high saturated color combinations that make up black skin. The dimension in a face will show up as a gradation of stacked planes. Contour lines flow across a face with intentions of creating cheekbones, a prominent nose bridge, or the texture of a lip.  
Do you have a favorite medium to work with?
I toggle back and forth between oil paint and pen ink being my favorite mediums. At the moment pen ink and markers are probably my number one because an idea can sometime come to life more quickly. With pen and markers I'm offered a lot of freedom while doing more stream of conscious style contour drawings. Also the fact that almost all of my paintings start off as pen drawings anyways puts that medium as my number now that I think about it. It's helps when making what I consider the blueprints. 
What inspiration do you find yourself drawing from for your DIY Docs?
For my DIY Docs I found myself drawing inspiration from my black punk roots. I take a lot of Pride in this facet of my identity and of course all of the folks who came before me paving way. I've also been obsessed with drawing wings and feathered textures so I wants to feature an angel as a guardian for the wearers.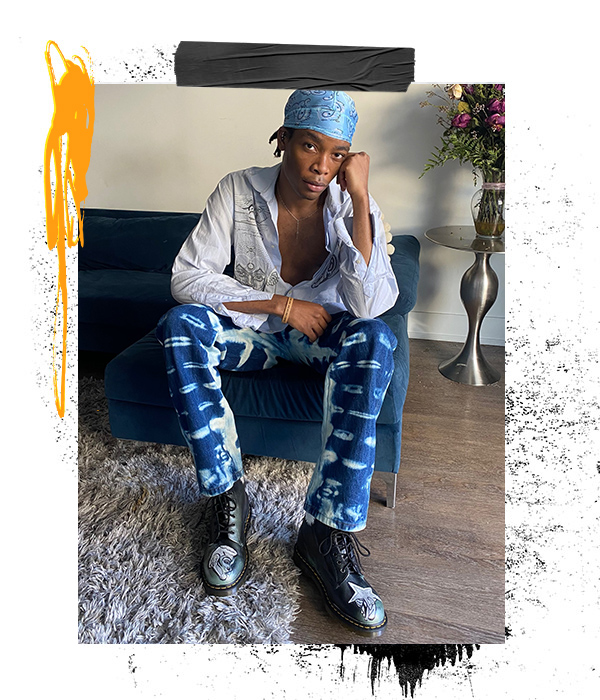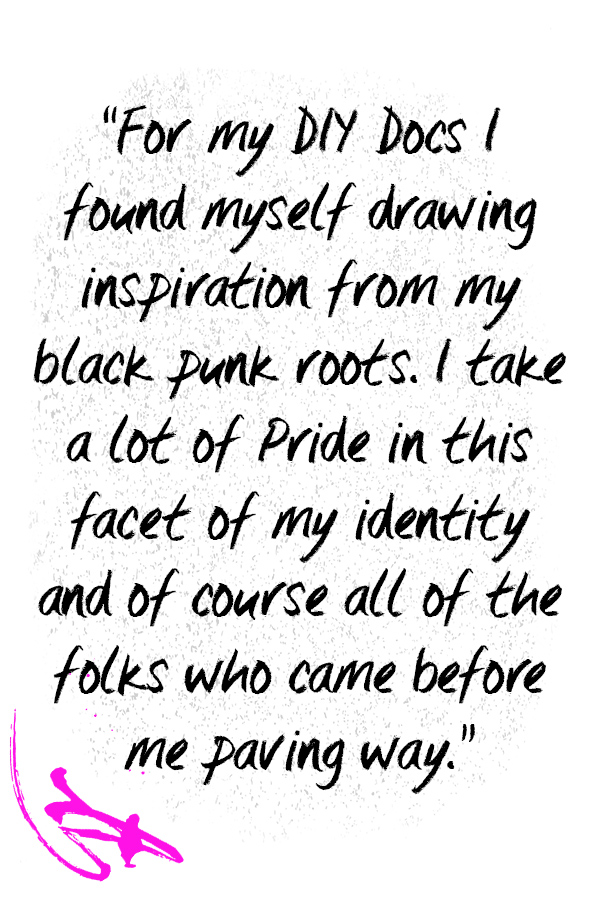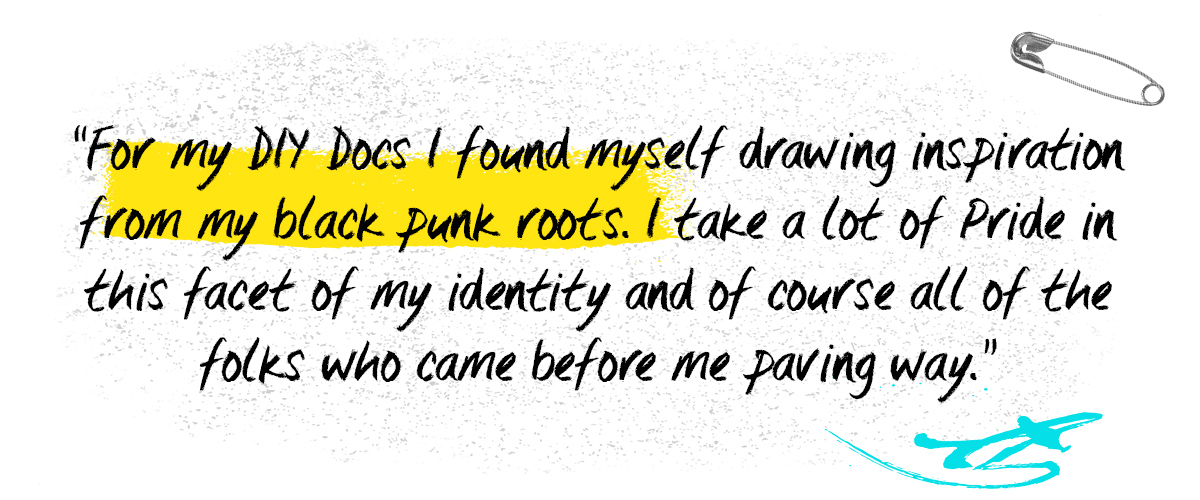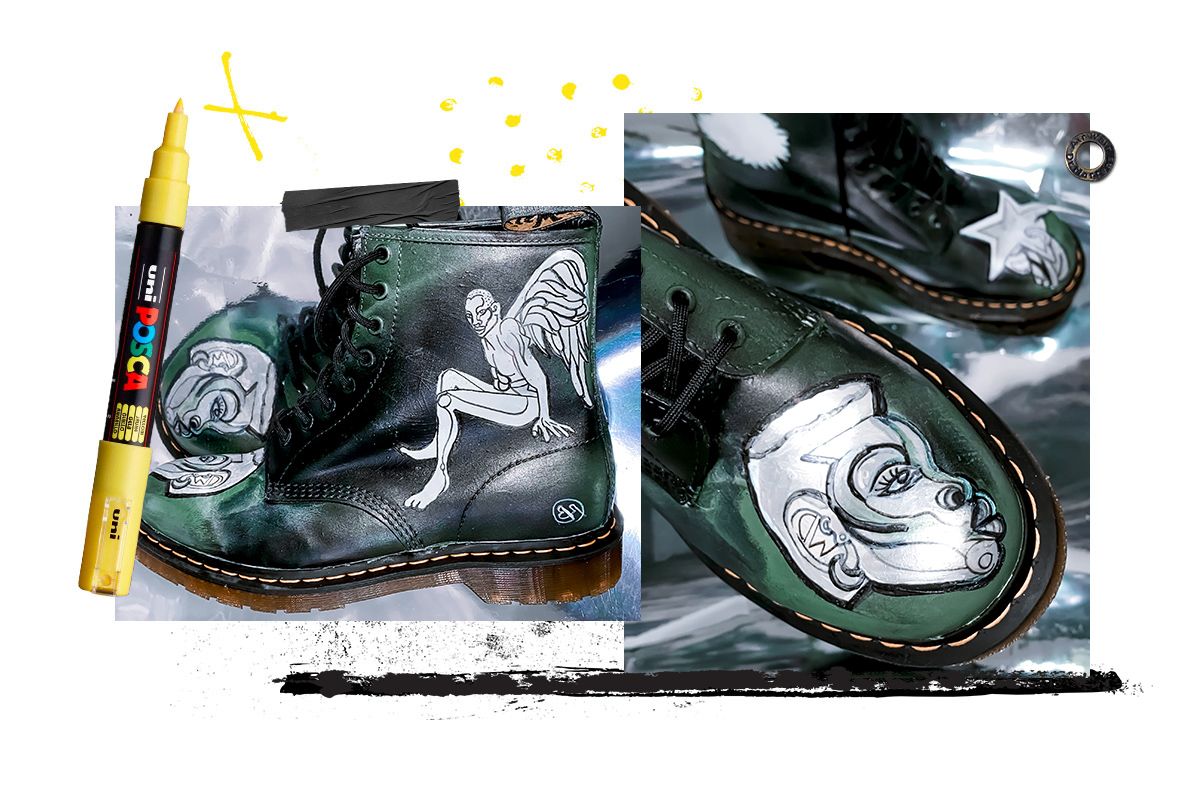 Why is Pride still important in 2021? 
I think Pride is still important in 2021 because with all the new growing advances in technology we have multiple ways to uplift and support our communities not only monetarily, but also by propelling collective ideas. With instances like now there is no limit to representation or the ways we, or our ally's, can choose to show up for the community. There are also a million different ways to exhibit being prideful and social media offers many windows into that idea.  
Which resources have you used for personal support, or would you recommend to someone in your community requiring support? 
One resource that I came across during the beginning of the pandemic is Ig/@Goodwitch.nyc. They are an herbal mutual aid network based in nyc that is ran by queer folks.  
What would you expect from someone who wants to be an ally to the LGBTQIA+ community?
If someone told me that they wanted to be an effective ally I would expect them to be comfortable and confident showing up and speaking up for queer folks. There are still moments and spaces where queer folks are not invited but are the topic of the discussions, so I feel like it's in these instances where people who position themselves as ally's activate. 
If you could celebrate Pride with one LGBTQIA+ historical icon, who would it be? 
If I could celebrate pride with one historical LGBTQIA+ icon it would definitely be Angela Davis!
What does Pride mean to you? 
To me pride is total and unapologetic authenticity and transparency. I've always associated pride month w a time to celebrate all axis of marginalized queer identity, and a time for everyone to really reflect on the historical figures and the events that have led up to the present.