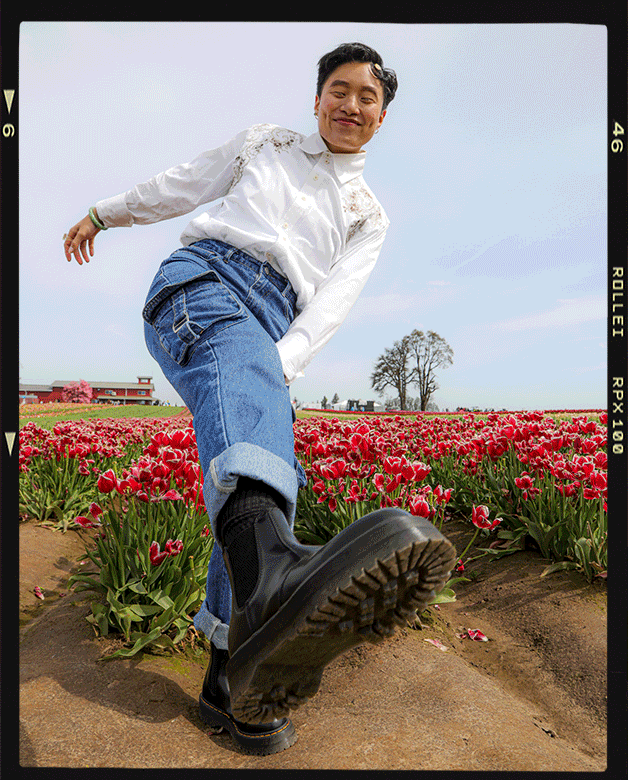 CELEBRATING ASIAN AMERICAN & PACIFIC ISLANDER HERITAGE MONTH

Dr. Martens is proud to celebrate and amplify those within AAPI communities. It's especially important to acknowledge the accomplishments of AAPI-owned businesses, colleagues, and friends — not only this month but all year long. Asian American Pacific Islander Heritage Month represents a nuanced and diverse community, and we want to highlight the breadth of stories, creatives, and backgrounds that exist within it. From artists to illustrators, designers to writers, we'll be listening and shining a light on their creative journeys, heritage, and greatest influences.
SUPPORTING THE ASIAN AMERICAN YOUTH LEADERSHIP CONFERENCE
Dr. Martens is donating $24,000 to support the Asian American Youth Leadership Conference. A non-profit empowering Asian American youth to rise above obstacles, and embrace the traditions, histories, and cultures of their communities.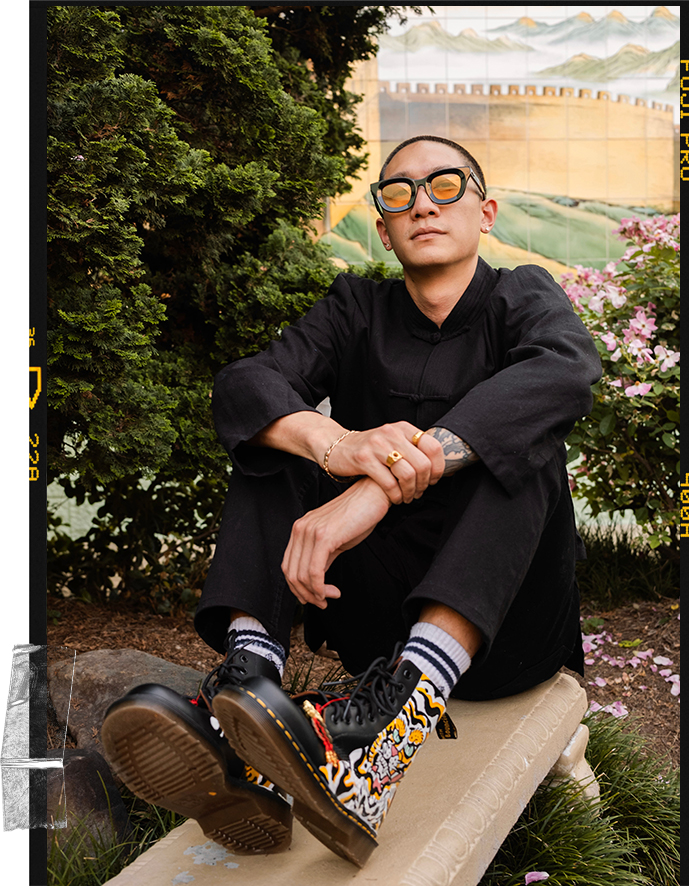 ANDREW BLOOMS (HE/HIM)
TATTOO & FINE ARTIST
How has your heritage shaped the person you are today?
My upbringing has prepared me for my path in so many amazing ways. I think a lot of immigrant kids go through the feeling of suppressing their cultural identity to fit in. I realize now that I should not be ashamed or hide any part of me, and that includes the part of me that is Taiwanese-American. I feel like I have absorbed so much of the beauty of Taiwanese culture - which is incredibly hospitable, kind, and ultimately very gifted. I consider it an honor to express these qualities not only in my art, but in my everyday life.


What makes you feel closest to your heritage and culture?
Honestly, it's the art. For most of my life I've felt mostly disconnected from my heritage. I would say it's due to the environment I was raised in, I didn't have a lot of outlets to connect to my culture. In 2013, I remember discovering within myself a love for this art, as I got tattooed by Horiking in Taiwan. This experience forever won my interest in Asian tattooing and art. Over the years, art has been my bridge for rediscovering who I am as an Asian man.


What inspired your DIY Docs design?
For this pair, I chose the motif of the Tiger. I wanted the design to shed light on the Chinese Zodiac, as 2022 is year of the Tiger. I wanted to enlarge the tiger so that the stripes would become a main part of the shoe design itself and so I could have enough room to show the ferocity of the tigers' expressions. In the end I attached two gold dragon pennants, meant to face each other, to represent the balance of yin and yang, as the tiger and dragons represented in ancient Chinese art, respectively.


What is one of your biggest influences and why?
The main inspiration behind my art is the Japanese tattoo, and by proxy the arts of the Edo period of Japan. It is during this time that the world saw the emergence of the Japanese tattoo and the Japanese wood-block print. To me, this period represents a time in history when the arts were celebrated and the power of the artists and how they could enrich society was displayed like never before. Centuries later, this art still maintains its awe and mystery, and continues to capture the eyes and hearts of people all over the world. What inspires me about Asian art is its ability to express the subtlety of life through folklore and fantasy. It's intricacy, deep philosophy, and mystery are what make discovering this art so amazing to me.
LISA CHIEM aka LICHI JELLY(THEY/THEM)
MODEL & SOCIAL CREATOR
How has your heritage shaped the person you are today?
It keeps me grounded, it's shaped me to believe that everything and nothing really matters. It's important to live by the things I know to be true and euphoric. I've lived 26 years through two sets of eyes, brains, hearts, bodies, and souls– one from my American life, and one from my Asian ancestry. I've been allowed to live two lives in one.


What are some of your favorite traditions?
Lunar New Year has always been and still is one of my favorite holidays because it gives me another chance to connect with my culture–and I'm always looking for opportunities to connect with my community.


What makes you feel closest to your heritage and culture?
Being as unapologetically me as possible. I feel like my authenticity not only honors myself, but also honors my ancestors more than anything else.


How is your heritage reflected in the content you create?
I find this question to be rather difficult because aspects of my identity (non-binary/trans &queer) are celebrated in social media and my American life, but on the contrary are the very reasons I was excluded from my Asian community and kicked out of my family home when I was 17. The content I create is deeply somber, epiphanic, triumphant. My content is in direct correlation with my healing from childhood trauma.


Who is one of your biggest influences?
My có ba, she was the one who raised me while my parents were working, to this day she calls me about every single day; and if I'm unable to pick up, she'll leave me a voicemail saying similar versions asking how I am and how much she loves me. Her eternal love and forgiveness for others humbles me in how I treat others.


What does Asian American and Pacific Islander Heritage Month mean to you?
It gives us a platform to showcase our enriching and abundant cultures– on all spectrums. The joy, the hardship, the traditions, the education, the history; it is all too abundant for just one month, that is why we must celebrate and honor our ancestry and their heritage daily.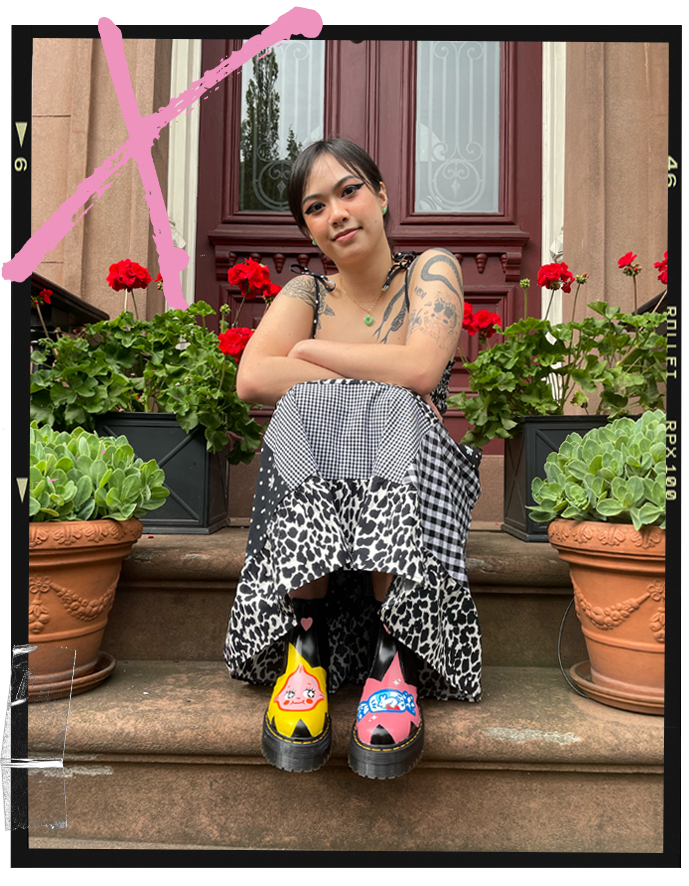 VANESSA (THEY/THEM)
ILLUSTRATOR & DESIGNER
How has your heritage shaped the person you are today?
I think this can be answered in many ways; my heritage has given me the ability to measure seasonings just by eyeballing it, a love for salty things, chewing on herbs as a snack before my pho comes out at a restaurant, or craving hot spicy soup in 90-degree weather during the peak of summer. But ultimately, it's the sense of "togetherness" that is the most important to me. Communal love has really stuck with me. Love can be found within your community and it's through nourishing your community that brings us together. I like to believe my heritage has taught me that by staying true to yourself we can be true to each other.


What are some of your favorite traditions?
When Vietnamese people drink, to cheers we count from 1 to 3 and bring our bottles in and shout "Yoooo!". What we're shouting is the word for "in", but to non-Vietnamese speakers it just sounds like we're all shouting "Yoooo!". We also have this concept called "nhậu", which literally means eating and drinking with no particular purpose. This typically involves cracking open fresh Heineken with your friends and snacking on finger foods like clams, escargot, gỏi cuốn, etc. You never eat or drink alone in Viet culture!


What makes you feel closest to your heritage and culture?
My family is Buddhist and practices ancestry worship, so every morning I would wake up to the smell of incense being burned and placed on the shrine we have for that. My grandma would routinely buy fresh fruit and flowers for our shrine to keep it nice and bright. When she passed, I eventually got into the habit of lighting incense myself every morning to put on my own shrine dedicated to her. Dried flowers, fresh tangerines, and a framed picture of my grandma proudly standing next to a tall rose plant she grew herself—I light the incense and speak in Vietnamese to her as if she is still alive. Even though she is gone physically, the idea that I can speak to her in that small moment to myself every morning makes me believe she's watching over me spiritually. In that moment I feel closest to my heritage, and in tandem, closest to her.


How is your heritage reflected in the content you create?
Much of my work is based on my cultural identity growing up in a first-generation Vietnamese household. A huge theme throughout my pieces is food. When you're introduced to another culture it's usually through food. Craving my mom's homemade pho, the smell of the incense being burned to pray to our ancestors, the Viet drama shows blasting from the tv, the freshly cut fruit after every meal - all of that is in my mind as I draw new pieces.


What does Asian American and Pacific Islander Heritage Month mean to you?
The month of May is always the busiest month of the year for any Asian creative. I've always thought it's funny how the start to the summer coincided with stress of meeting project deadlines. But on the other hand, I think it's beautiful that the end of Spring and start of Summer allows so many Asian creatives to showcase their work and put their best foot forward.
THAO HUYNH FRENCH (SHE/HER)
ARTIST & MURALIST
How has your heritage shaped the person you are today?
My culture has shaped me into the giving, loyal, and creative person I am today. My family's love language was sharing the food we make and surrounding ourselves with flowers and beautiful fabrics that make up the traditional Vietnamese dresses.

The way my culture has shaped me is really through resilience and tenacity. The drive and love to create something out of nothing to connet with a community. For me, I connect through my art and food. most times when I meet new friends, I come bearing gifts of flowers and banh mi sandwiches because I believe we leave richer when we give more than we take. This is my love language.


What are some of your favorite traditions of your culture?
My parents asking me if I am hungry (haha!), the meditation of Asian grocery store shopping with mom, the communal art of gardening, cooking, and of course eating the food together. Oh, and getting dolled up in our Vietnamese dresses for Tet, the Lunar New Year!


How is your heritage reflected in the content you create?
There has been a lot of trauma passed down from generation to generation in my family and so because of this, I feel the incessant need to heal through my art. I paint how I feel, what I've been through and seen, what I love (and sometimes hate) about my culture, as well as the stories from my family and community. I've grown to love and celebrate these traditions-the good and the bad, all of the above.


Who is one of your biggest influences and why?
My mom because she taught me that resilience and creativity are what makes us so powerful. I paint flowers because she used to practice painting flowers on my nails when she was learning to be a nail technician. These small moments have made big impacts and influenced my work today.


What does Asian American and Pacific Islander Heritage Month mean to you?
It is an opportunity to share and celebrate unique parts of me and my culture with the rest of the world. It's a chance for me to discover more abot where I come from and the history of my people while building representation and visibility. I used to be so ashamed of being Asian and now that I am learning so much about Vietnamese culture and other AAPI cultures, it makes me feel proud and ultimately makes me have more of a profound love for myself. Being able to see so many generations come together and celebrate what makes us so unique and sharing that with each other is a beautiful feeling.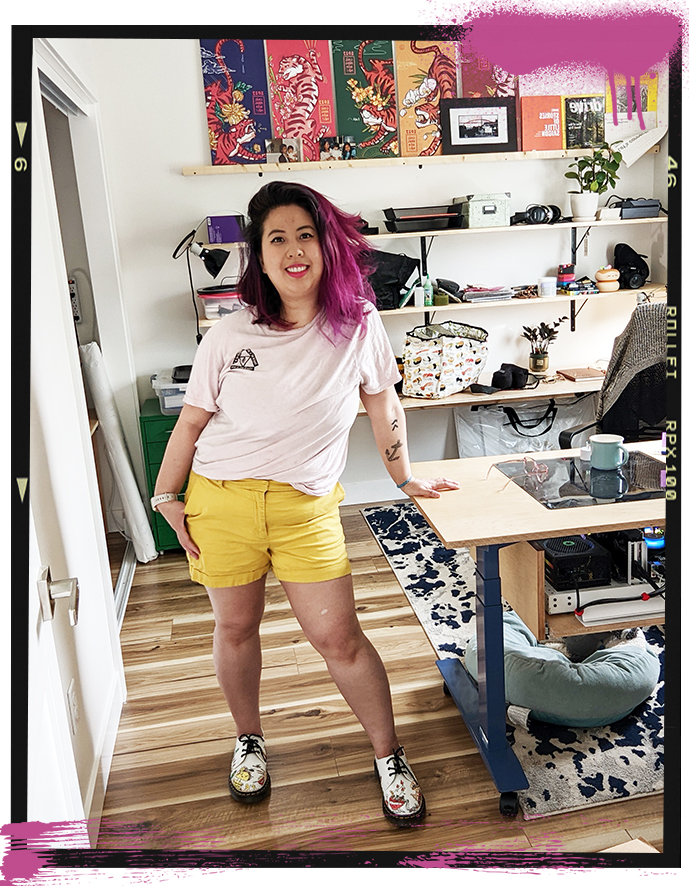 STACY NGUYEN (SHE/HER)
ILLUSTRATOR, DESIGNER, & WRITER
What makes you feel closest to your heritage and culture?
I think when I'm being the most honest and most authentic version of myself - those are the moments I'm closest to my culture.

When I was a kid and first started school, it was a huge culture shock for me. I went from hanging out with my Vietnamese grandma all day every day to going to kindergarten to hang out with a bunch of white kids. I was teased a lot for so many things I didn't know were 'strange'. All the food I was used to eating was strange. My clothes were strange. The way I talked was strange. My body language was strange. The fact that I knew nothing about popular culture was strange. The fact that I didn't know any slang or colloquialisms was strange.

And so at five years old, I started learning how to code switch so I wouldn't get hassled or stand out as weird. I got pretty good at it and turned into the person people experience today.

But it's all still at least partly a cultivated lie. The moments when I don't have to maintain an "American face" are the moments that I feel the most Vietnamese. That means the moments I say things extra blutnly, the moments I squat because it honestly works better than sitting in a chair, the moments I boldly ask people how much money they make and how much they paid for their stuff - those are the moments I'm peak Viet!


How is your heritage reflected in the content you create?
I think the OG Vietnamese Americans that I know - my aunts, uncles, and older cousins - they are like gluttunous folks. And I mean in terms of personhood. They don't think there's too much of a good thing. So if they like something, they're like, "Well, you know what's better than one of these? A hundred of these." Vietnamese people like doing the most. They like gilding the lily a dozen times over.

So I like to add elements of that in my work. Sometimes I call it "gaudiness," (which sounds like a pejorative, but I don't intend for it to be). I push things a little past good taste (or MY FEARS) and then go a little bolder, a little more, a little riskier. And that feels like a reflection of my heritage and culture.

And content-wise, I'm constantly actually illustrating Vietnamese stuff all the time! Foods! My own face! Jars of ointment!
Who/what is one of your biggest influences and why?
I don't think I illustrate like her, but Victo Ngai, also an AAPI artist, made me believe that being an illustrator was possible. Her work is also beyond. Also, this is a corny answer, but I love Miyazaki and I crib that sense of sadness and loss of childhood that he creates all the time and try to add that into my work.
KEIRAN AINE (HE/HIM)
SINGER/SONGWRITER & PRODUCER
What makes you feel closest to your heritage and culture?
I think family being together makes me feel closest to my heritage. Everyone gathering at one house reminds me the most of my heritage, and some of my fondest memories are of the families from both my mom and my dad congregating at our house for Christmas. They're both the oldest of 5-6 kids, so that was a LOT of people coming over for the holidays. Things have changed since then as people grow older and life goes on, but those memories will always have a special place in my heart. I know this isn't commonplace for every household, but it can feel like family wherever there's a Filipino community.


How has your heritage shaped the person you are today?
I feel like singing is such a staple of Filipino culture. Everybody's got a magic sing karaoke machine at their house, and I remember singing for my aunts and uncles since middle school. I think the values such as family and hospitality have been such significant aspects of my life that ultimately have helped shape my personality and approach to my work. I would also say that some of the more difficult aspects, such as the anxieties and pressures of the Asian-American experience, heavily inform my material.


Who/what is one of your biggest influences and why?
In terms of finding my identity as a Filipino-American in a city that initially had a small Filipino presence, I think I can accredit three people who have really inspired me: AJ Rafael, Brian Puspos, and my sister. AJ Rafael inspired me to sing, Brian Puspos was like a Filipino-American standard of how to be cool, and my sister has always been a compass for what was considered cool or not. Musically I look up to Timbaland, Kenny Beats, Tyler the Creator and Frank Ocean the most, but these are only a few of the many artists who've influenced me. I like to learn a lot from everything I consume.


What does Asian American and Pacific Islander Heritage Month mean to you?
Asian American and Pacific Islander Heritage Month is important to me as it is essentially another extension of home for AAPI people. It provides a sense of community and representation and helps people feel a sense of belonging. As multicultural families become increasingly more common, I think that AAPI heritage month is an amazing time for people to connect with their heritage.