Hi, and thank you so much for speaking with us. Could you give us an introduction?
Hi There! My name is Ricky Sencion. My pronouns are he/him. I'm based in Los Angeles and my IG handle is LITTLERICKY001.
How would you describe your artistic style?
It's feel good art filled with joy.
Do you have a favorite medium to work with?
I love working with acrylics and pencils and on either wood panels and cardboard.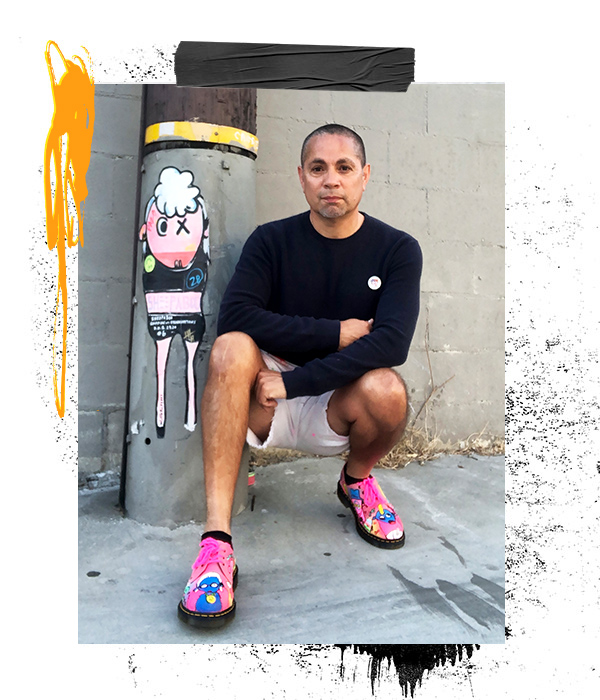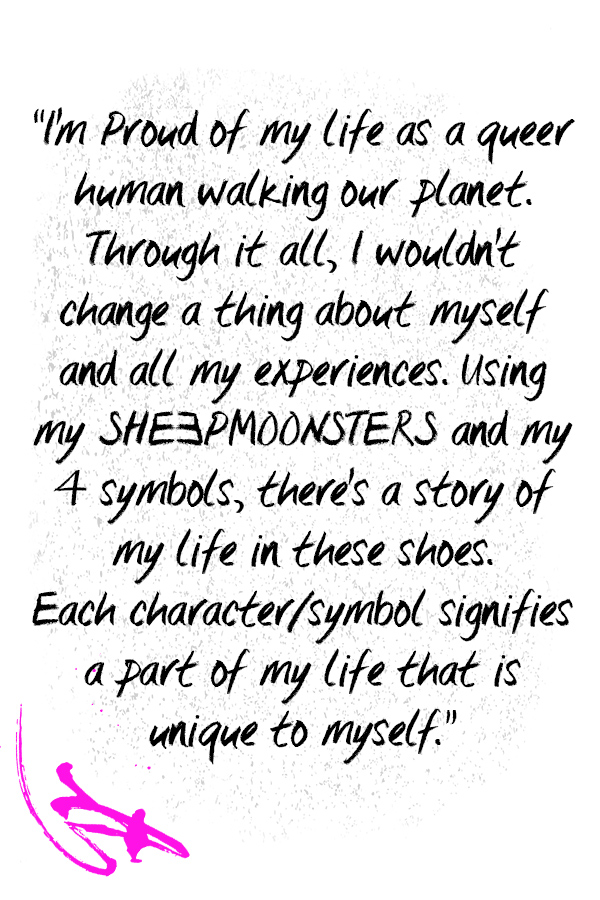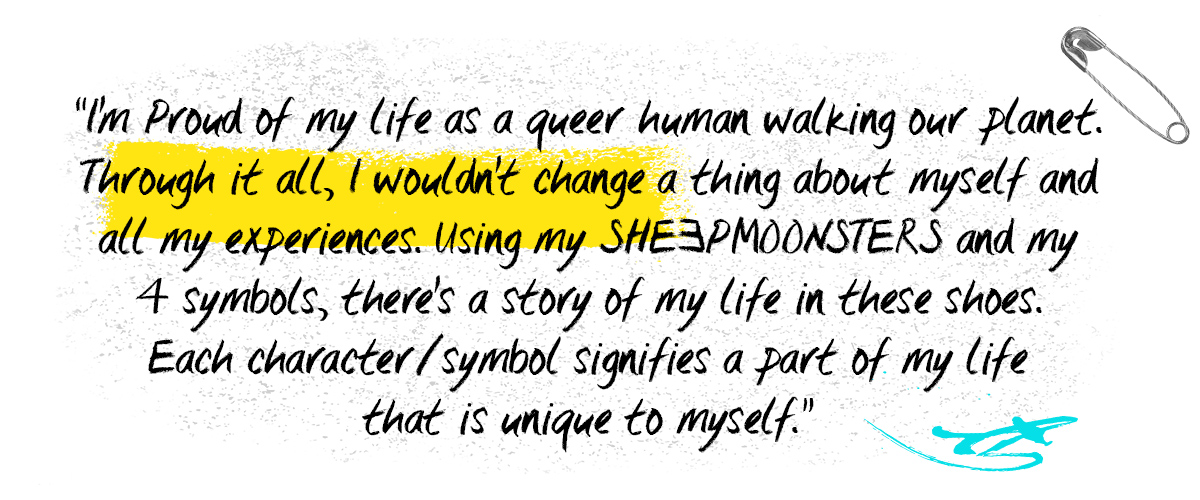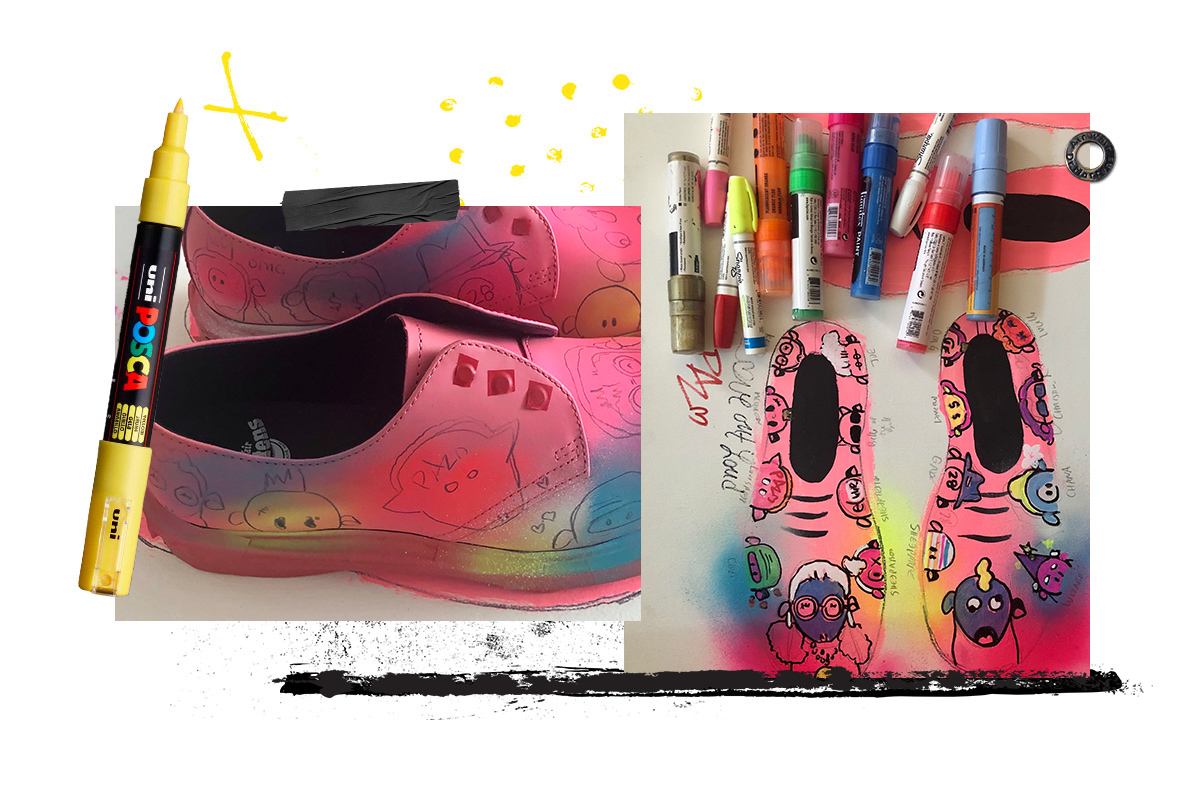 What inspiration do you find yourself drawing from for your DIY Docs?
I'm Proud of my life as a queer human walking our planet. Through it all, I wouldn't change a thing about myself and all my experiences. Using my SHEƎP MOONSTERS and my 4 symbols, there's a story of my life in these shoes. Each character/symbol signifies a part of my life that is unique to myself. Working on SHEƎP for the past 8 years has opened my eyes to seeing that because we are different, we are one. 'e(we)' is a word I created to mean 'you/we)'. In honoring it, I honor all of us. Each of us is unique and beautiful as we are. Each of us are worthy of greatness and love. That is what these shoes represent.
Why is Pride still important in 2021?
Pride is always important. The Orlando shootings in 2016, were a personal reminder. After being out for 25 years, I had gotten too comfortable. It was a reminder to live out loud, to not only be myself, but to live with Pride, to feel proud of who I am.  Because on the other end of it is shame. By being proud and living with pride, we are examples for the next generation.
How do we keep the focus on LGBTQIA+ rights all year round?
We keep the focus on LGBTQIA+ by living out loud all year round ourselves. Even though I've been out for 30 years, I realized a few years ago, that I would sometimes censor myself by the way I dressed or by staying silent and not expressing myself how I wanted to. I realized that by doing so, I was not only harming myself, I wasn't putting my authentic self forward. By being the example, I honor the lives before me and pay it forward at the same time.
What would you expect from someone who wants to be an ally to the LGBTQIA+ community?
I don't like the word expect too much, but I'd like for our allies to just keep an open mind, to listen and ask questions. Many years ago, I befriended a homophobic coworker. Little by little we became close friends. What I loved most about him was his willingness to ask questions. And on the other end, my willingness to not judge him either for whatever questions he asked.