THE 1460 BRBK BOOT
+ BLACK SMOOTH LEATHER
+ FLEECE LINING AND FLUFFY LACES
+ DEBOSSED UPPER
+ BRANDED LACE CHARM
'OUR FANS SHARE COMMON GROUND. BOTH COLLECTORS AND WEARERS RECOGNIZE AUTHENTICITY.' — MEDICOM TOY
Our limited edition 1460 BRBK boot is not just a one-off. It's a first. Co-designed by the creators of the MEDICOM TOY label, it's one of a few times they've strayed from their usual bear shaped canvas. And they've made a hell of an impression. A completely debossed upper and '@' stamp on the side is both subtle — yet instantly recognizable to MEDICOM TOY heads.

Along with our boot, we've also created six bespoke MEDICOM TOY bears* — taking cues from our wearers in each decade. Kicking off with our 60s MEDICOM TOY. Where DM's began, it's complete with a buzzcut and ska music on loop. The 70s bear is no-nonsense punk — loud, brash and ready to challenge the norm. The 80s goth bear is all leather, lace and fishnets, while the 90s bear sports flannel, Docs and a grungy, unwashed attitude. The vibrant Kawaii movement inspires the colorful 00s bear, and the 10s bear likes plaid, rocks a beard, and isn't scared to take on outdated social norms. Together, they're a tribute to the alternative subcultures that have made us the brand we are today.
MEET THE BEARS
Known for their collectable action figures, Japanese cult favourite MEDICOM TOY uses these canvases to channel modern creative expression. We've created six bespoke BE@RBRICKS — taking cues from our wearers from each decade since 1960.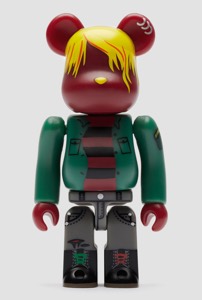 THE 1460 REMASTERED
For our 60th anniversary, we're working with 12 innovative labels, brands and designers on 12 one-off reworks of our Original boot. limited to 1460 pairs worldwide. There's one dropping once a month, every month throughout 2020.