To discuss important themes from 'Juno' around community and recovery, anaiis also hosted a panel discussion at Jah Jah by Le Tricycle, a cultural hub in Paris. Alongside photographer Charlotte Abramow, actress Déborah Lukumuena, and filmmaker Néhémie Lemal, the panel drew on personal testimony to explore ways to support each other through mental health struggles and how art has helped them cope.
WATCH THE PANEL DISCUSSION
5 MINUTES WITH ANAIIS
DM's chats to anaiis about her music, and how she has been using art to help herself and her community.

Why do you find music to be such a powerful medium?

Music has the power to transcend any boundary, it's such a pure and timeless transmission of energy, so in my opinion, it's a sacred means of communication. There are so many things we can't express through language, but we might through sound or feeling.

Personally, I find it hard to come to terms with certain disappointments or challenges in my life if I haven't written a song about it. I can sometimes struggle with language and I had hinderances with my speech growing up, but I found that I could express much more through my voice than I could through my words.


What's the story behind the track 'Juno'?

That's a long story! Essentially, I went through a period of dark months where I lost sense of myself and my peace of mind. I wanted to write a song that touched upon what it felt like to feel so alone, isolated, and disconnected. However, I wanted to remind myself and others, that amidst any situation we always have a choice.

To me this song really encapsulates an inner dialogue I was having with myself around that time, making space for myself when I am not okay, but also reminding myself that all is temporary, and that even when we are made to feel like we have no choice, we often do.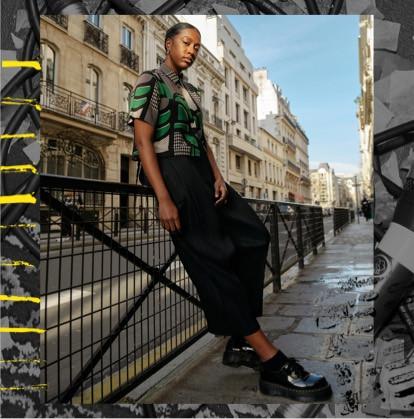 What does Dr. Martens mean to you?

To me DM's are all about being free spirited, rebellious, and being yourself. That's why I love them , I feel bold when I wear them.
In what ways is your music helping people to process and cope with trauma?

The intention behind my work is always to inspire a space for safe introspection. I hope that my work helps people to look within as the first place for growth. In the intro of the video for Juno we used this incredible quote by Alice Walker about recognising one's own power. I use my work as a means to reclaim my power and to realise my capacity for love and for creating change. The reach of personal liberation will guide us towards collective healing and liberation.

To help encourage this mindset, I've created a deck of positive self-affirmation cards alongside therapists Stella Tiendrebeogo and Sanah Ahsan, and Parisian artist Losspardo. They're designed to provide self-care and emotional pick-me-ups in times of distress, and to always support positive internal thinking.

Have a look through a selection of the cards below.
Alongside working with anaiis to support the music video for 'Juno', DM's will be supporting and donating to Collectif PSY Noires, a charity working to provide access to information, care and mental health support for Black people in the face of discrimination and systemic oppression.
SHOP ANAIIS' DM'S LINE-UP
Head to anaiis' Spotify page to check out her music ahead of her EP release later this year, or discover other DM's Presents stories from the fringes of subculture.