How To Style Dr. Martens Heels


Built with signature durability. Designed with DM's attitude. See how we're styling our rugged Docs heels. Whether you're lacing them up or pulling them on—you're in the perfect spot to get some style inspiration.
Want to lace up your heeled boots? Fearlessly break out the bold prints—camo, floral, brocade, you name it. The commanding sole on the Leona calls for sheer tights, textures, and vibrant colors. Dressed up or down, antiqued eyelets and a sleek silhouette stand out from the crowd.
Rugged features. Stacked heel. This is the Chelsea bootie, done differently. With an easy-to-pull-on construction, the Rometty is ready to rock with any length bottoms. Try your favorite worn-in denim, mid-length, or mini skirt—either way, your look is elevated with a polished leather pop.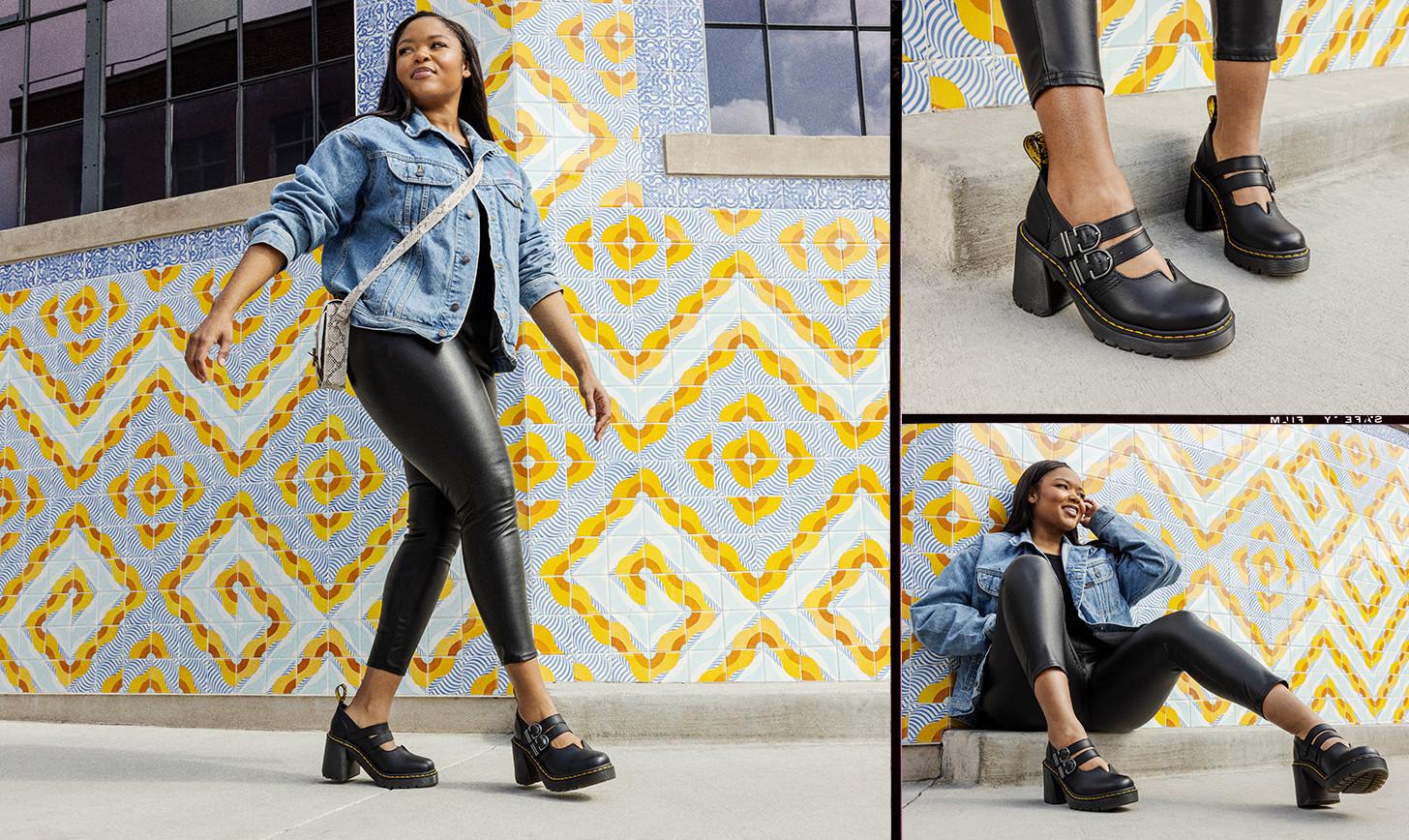 EVIEE SENDAL LEATHER HEELED SHOES
There are heeled shoes. And then there's the Eviee. Stacked with extra empowering height, it takes inspiration from our archival 8065 Mary Jane shoe. Its versatility knows no bounds, effortlessly transitioning from casual outfits to dressed-up looks. Pair it with leggings or jeans for a casual occasion or with skirts and socks for an on-trend statement.
Extra tough. Extra attitude. The Chesney is a towering evolution of our Original 8-eye silhouette. With hiker-inspired laces and a flared heel, it injects intrigue into a variety of outfits. Amp up your winter style with layered looks and patterned tights, or add a rebellious edge to your summer ensembles by rocking the Chesney with skirts and dresses.
Kick things up a notch. If you're wondering what to wear with your Docs heels, we've got you covered. Empowering, chunky heels mean these Chelsea boots can stand with the boldest outfits.

A monochrome black look makes ankle boots pop, but don't shy away from mixing things up with different fabrics—denim, corduroy, and even a little more leather to bring it back to your boots. We know the DM's attitude is in the details, so we're into adding layered jewelry and accessories.